The transportation in Vietnam has not yet developed as other countries in the world. Thus I am writing this article to help travelers know more about transportation in Vietnam so that they can plan their trips easier.
I. Travel between cities
By air - Flying is by far the best way to travel if people intend to visit only a few cities in Vietnam. Vietnam Airlines offers domestic flights to almost cities in Vietnam from Hanoi, Da Nang and Ho Chi Minh City. Another airline which is also operating in domestic is Jetstar Airways. However, Jetstar Airways only has few routes to major cities in Vietnam.
By train - If people intend to experience Vietnamese countryside, then travelling by train is really a great idea because it will pass by spectacular mountain passes, ocean views, tunnels, etc. The fastest express train from Hanoi to Ho Chi Minh City and vice versa (called the Reunification Express) covers 1,730 km in 30 hours, with the slower ones up to 41 hours because of the numerous stops they make. (Vietnam Railways 2002-2008)
By car or coach or motorbikes - It is the most popular transportation for tourists when they travel in Vietnam. It is possible to rent a car or coach included a driver to travel around Vietnam. Almost tour operators and travel agencies in Vietnam offer this kind of service.
If people have time, they should use train, car or coach to travel between cities. Although it takes more time than flying, it will give people a chance to experience the scenery of different places in Vietnam and of course the price is much cheaper than taking a flight.
II. City transport
Unlike other cities in the world, there is not much public transportation in Vietnam. People can find that there are no metro, subway, tram, etc. in Vietnam. The only one public transportation is bus. Almost people in Vietnam have their own motorbikes and they use it everywhere and every time. Below are some kinds of transportation that tourist people can use when they travel in Vietnam.
Cyclo - Cyclo used to be a common public transportation in Vietnam. Nowadays, it is only used to serve tourists in the centre of Ho Chi Minh City and some other cities in Vietnam. It is really worth to take a trip by cyclo when people are travelling in Vietnam.
Motorcycle Rental - It is a fast and popular way to get around in almost cities in Vietnam. The driver will take their passengers on a motorcycle. Fares are actually cheaper than on cyclos, and of course the ride is quicker.
Taxis - Air-conditioned metered taxis are common in the major cities and fares are cheap. However, if people are in a hurry, it is not a good idea to use a taxi because of traffic jam.
Buses - There are public buses on the road and the fare is really cheap. However, the service is not really geared up for tourists. Timetables either do not exist and bus stops are often difficult to locate.
The most recommended transportation by researcher is taxis because it is the safest transportation in Vietnam and tourists can pay the fare according to the taxi meter. Because of some sensitive reasons, such as pickpockets and it is really hard to find the locations, it is not recommended to use bus.
If you are looking for motorbikes sale in Viet Nam please visit us at http://www.travelswop.com/vietnam/for-rent/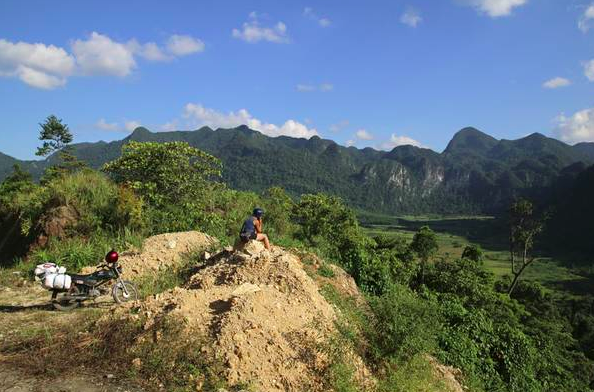 Travel Swop is best place have Used Motorbikes for Sale, buy and sell Motorbikes, Cars, Bicycles sold price cheaps. Travel Swop shop for backpacker motorbikes for sale, bicycle sale, buy and sell motorbikes, Motorcycles and best places to find a job, backpacking tips while travelling.