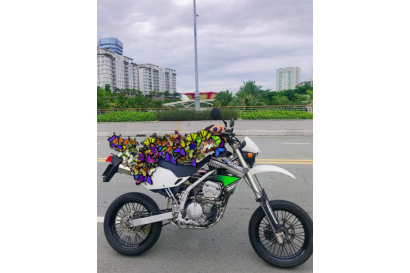 Tweet
487

Super Mortard D_Tracker 250
Item Type : Motobikes
Model Name : KAWASAKI KLX250SF Supermoto
Available From: 05/07/2019
Available To: 05/09/2019
Location: Ung Van Khiem, Ward 25, Binh Thanh District, Ho Chi Minh City, Vietnam
Original is D-tracker, so accurate speedometer.
Asking for 1.900 Usd. Can negotiate the price or best offer.
It's been such a great bike to me I will be very sad to see it go.
Bike has been well maintained; oil changed regularly.
Front Shock & rear suspension in good condition, not leaking.
New tire, clutch plates, air filter, new chain & sprocket also
The blue card is genuine and present. The bike has a blue card but could not transfer the owner's name.
I am not the owner name on the paper, but I guarantee that this bike is not in dispute with anyone.
The bike runs great. I've used it to commute to work. I've never had a problem with the bike.
It's setup as a supermoto with 17" wheels, the tires are designed for a mix of dirt and street.
It has a baga on the tail for carrying bags easily.
COMMENTS