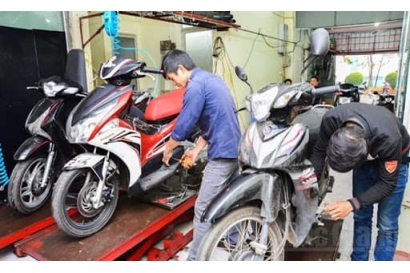 Tweet
6184

THE BEST SHOP MECHANICS MOTORBIKE SERVICE IN HANOI(282 NGHI TAM, TAY HO, HANOI)
Item Type : Motobikes
Model Name : HONDA Win
Available From: 15/07/2020
Available To: 15/10/2020
Location: 282 nghi tam, tay ho, hanoi, Hanoi, Vietnam
Hello everybody
What problem with your motorbike? your motorbike broken ? And you want find good mechanic repair it ,you want cheap price, good service ?
Yes , that's my Shop: TAYHO MOTORBIKE
ADDRESS: 282 Nghi Tam, TAYHO, HANOI
Contact me: + 84984130483 ( Mr Tony )
WE ARE YOUR MECHANICS - HOME MOTORBIKE SERVICE BY TAYHO MOTORBIKES
TAYHO Motorbikes was established 10 years ago and has been developing ever since. We work hard to provide a high-quality service and offer you all of these benefits when you choose us to help repair your bike:
- Quick and efficient rescue, inspection and repair of vehicles on the spot
- Detailed quotes and cheaper costs than if you were to fix the bike yourself
- Free bike wash service after repair
- Free bike delivery
- Complete accessories and many models
- Warranty maintenance if there is a problem due to technical error of the store
# Service:
A team of enthusiastic professionals ready to help you.
We will not be deterred if you are far away. We are ready to help without hesitation, whatever the weather.
Routine maintenance, bike repair, spare parts replacement and maintenance appointments.
Clear warranty period (from 3 months to 12 months)
# Contact:
Tel TAYHO Motorbikes: +84984130483(zalo, whatsApp)
(Please save to your phone so you can call us anytime)
Working time: 7:30 am - 5:30 pm
Address: 282 nghi tam , Tay Ho, Hanoi.
https://www.facebook.com/Tayho-Motorbikes-Rent-Sale-Service-motorbike-in-HaNoi-117200256352180/?modal=admin_todo_tour
COMMENTS