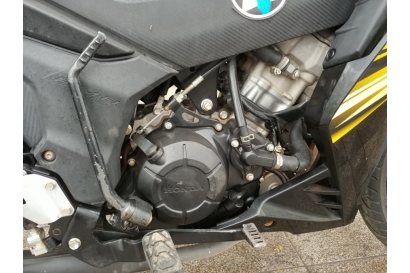 Tweet
414

HONDA WINNER150cc
Item Type : Motobikes
Model Name :
Available From: 17/04/2019
Available To: 30/07/2019
Location: 55 Trịnh công sơn- Tây hồ- Hà nội, Hanoi, Vietnam
The Honda Winner is an underbone motorcycle from the Japanese manufacturer Honda. It was launched in April 2016 in Vietnam. It was also launched in May 2016 in Indonesia as the Supra GTR. In June 2016, the bike was launched in Malaysia as the RS150R.The engine is shared with the 2015 Sonic 150R, 2015 CB150R (StreetFire), and 2016 CBR150R. With the engine producing 12 kW (16.1 hp; 16.3 PS), it makes the Winner as the fastest and most powerful 4-stroke underbone model ever offered by Honda,[8] alongside with Sonic.
Come now VIETMOTORS to look , test drive and i'll treat you Drink BEER, COFFEE or TEA
The bike comes with
-Blue card
-1 year guarantee from our store
-1 time oil change and full check free
-helmet
-bungees
-rack
-rain poncho
I have some other bikes like this available at price from 35mil- 40mil
Can offer discount if you want to buy multiple bikes
Add : 55 Trịnh Công Sơn , tay ho , Hanoi
Hotline, Whatapp: +84369986789
website: https://vietmotorbikes.com
fb: https://www.facebook.com/hanoi.rentalbikes
fanpage: https://www.facebook.com/vietmotorbikes
COMMENTS