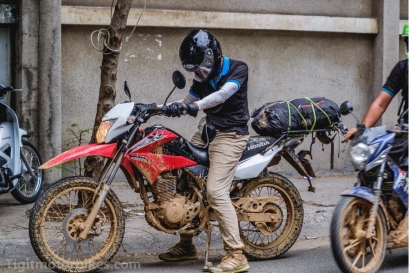 Tweet
763

BRAND NEW HONDA XR 150CC FOR RENT IN HANOI AND HO CHI MINH CITY(31 phuc tan,hoan kiem,hanoi)
Item Type : Motobikes
Model Name :
Available From: 03/06/2018
Available To: 04/10/2018
Location: 31 PHUC TAN ,HOAN KIEM ,HA NOI, Hanoi, Vietnam
vietnam Motorbike is proud to introduce the latest entry dirt bike series from Honda, the Honda XR150. In fact, this Honda XR150 was improved from the Honda XR125 which has been great and a pleasure to ride. Not as strong, big, powerful or heavy as Honda XR250 but it offers more reliability and lighter weight. All in all, this is a great choice in between the Honda XR125 and XR250.
The Honda XR 150cc is the best motorbike in Vietnam for travelling through the mountainous north or going off road on the back roads.
As these are 2017 Honda XR 150 these are very reliable bikes, they have plenty of power to carry 1 or 2 people anywhere that you want to go and the high ground clearance means you can easily pass through rivers, mud tracks or any other terrain you come up against.
The XRs come with a rack suitable for 1 bag and a strong phone holder for navigation as well as a map, a D-Lock and bungee cords.
Rental Warranty
As with all of our rental bikes we warranty the mechanics of the bike in case of any breakdowns on the road.
The Honda XR is only recommended for experienced riders and isn't rented for beginners as it is more difficult to ride compared to the Win and has more power which would be harder to control.
When renting the Honda XR it needs to be understood that while these bikes are from 2017 so in perfect condition spare parts are more difficult to come by and need to be shipped in if there is a problem which can be a issue if you are in the countryside.
Please contact us for any more information or full details of the warranty.
Reserving a Bike
To reserve a bike please contact us directly via Facebook or email. We are able to reserve a bike with a payment of 25% of the rental fee.
We are able to do this via Paypal or if you are already in Vietnam then we are able to take a card or cash payment.
Rental Prices
Per Day – $18 – $20
– 1 WEEK PRICE: $140
– 2 WEEKS PRICE: $250
– 1 MONTH PRICE: $400
2 month – $600
3 month – $700
DEPOSIT
Passport or up to $3,200 less the rental cost
(Deposit amount depends on rental time)
Address :VIETNAM MOTORBIKE
HA NOI :No 31 PHUC TAN, Hoan Kiếm, Hanoi (just 1Km from Hoan Kiếm Lake, you can walking easy only 5 minute) (Old Quarter)
Please, don't hesitate to Contact me if you're interested.
Send me a message to +84984130483(mr tony )
Please, Please call/ SMS before coming, We can pick up you for free,
just send us your address
COMMENTS