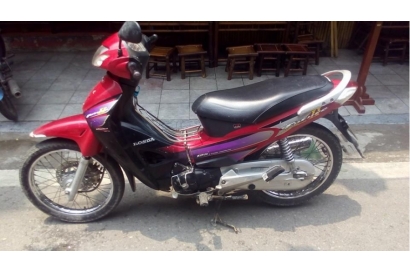 Tweet
352

Honda Future
Item Type : Motobikes
Model Name : HONDA Future
Available From: 02/06/2016
Available To: 02/06/2018
Location: 29 Dao Duy Tu, Hanoi, Vietnam
STYLE MOTORBIKES
If you are looking for a reliable semi-automatic in Hanoi then the 125cc original Honda Future is the perfect bike.
This bike is great for driving around town as are all semi-automatics as they are easier to handle in a crowded space over a manual and are much better at fuel efficiency compared to a automatic.
As the Future is 125cc this bike is also great for travelling as it has the power to easily handle to mountains and hills that you are surely going to come across throughout Vietnam.
As with all of our bikes the Future has been fully serviced to make sure it is in great condition. It is also sold with a 2 month warranty in Hanoi so if you do have any problems during this time you have to come back to the shop and we will repair the bike for free.
Price - from $520
We also have copy semi-automatic which are much cheaper but do not have the reliability of the Hondas.
Feel free to check out our tripadvisor reviews. We are currently 5 star rated.
COMMENTS