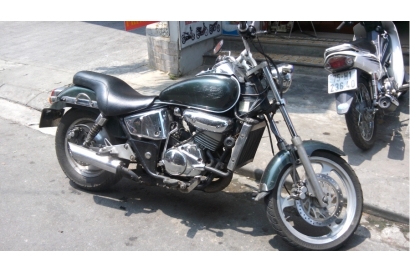 Tweet
2105

Motorcycle 1 way rental in Vietnam
Item Type : Motobikes
Model Name : HONDA @125
Available From: 16/05/2015
Available To: 16/05/2017
Location: 6 Chu Van An, Hue, Vietnam
– You can leave your motorbike ANYWHERE you like in Vietnam without sending it back!
(Hanoi, Donghoi, Hue, Danang, Hoian, Quynhon, Pleiku, Nhatrang, Dalat, Muine, Saigon)
– Your big bags will be sent to your destination.
– More Choices: Yamaha Cruiser 250cc, LF Cruiser 150cc, Minsk 125cc, Automatic, Semi-Automatic bikes, …
– Free detailed maps
– Safer travelling with the protection we provide: knee and elbow protection, good quality gloves, high quality Western-standard helmets.
– Bring Vietnam to your home with a camera (Full HD) on your helmet.
– English-speaking, friendly, and experienced drivers (Motorcycle Tours)
COMMENTS