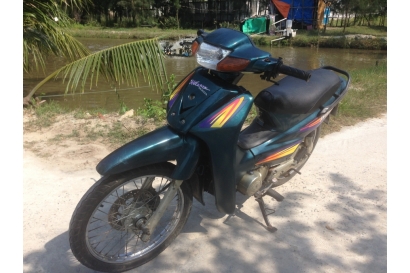 Tweet
1731

Honda Wave for sale in Hue
Item Type : Motobikes
Model Name : HONDA Wave
Available From: 20/02/2016
Available To: 20/02/2020
Location: Anywhere in Hue, Hue, Vietnam
Honda Wave
fuel: gas
transmission: other
I sell my Honda Wave in Hue cause I'm flying back home soon.
It's a semi automatic: perfect to ride Vietnam on hilly roads or on flat roads along the coastline. Very low fuel consumption.

It can go 80ish maximum.
Please not the speedometer and the fuel gauge don't work but it hasn't been a problem for me at all.

Available until the 22nd of February. Contact ‭+84 128 9860508‬
My friends also sell 2 Yamaha Nouvo (automatic) if you are interested!
COMMENTS