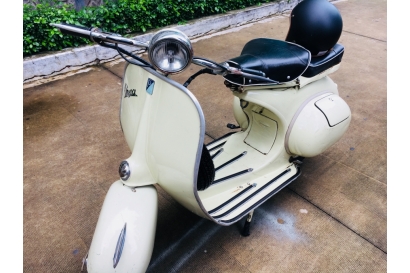 Tweet
366

Super Original Vespa 150cc
Item Type : Motobikes
Model Name : PIAGGIO Vespa
Available From: 15/08/2018
Available To: 15/11/2018
Location: 504-506 Huynh tan phat, D7, HCMC, Ho Chi Minh City, Vietnam
The Vespa is a true legend at two wheels!
It is original Vespa ACMA 1956 125cc, already restored and upgraded to 150cc!!!
Beautiful, stylish, fun and reliable!
This really is just about the perfect scooter for daily riding, were built to last and they are extremely rugged and reliable, are virtually mechanically indestructible, and spare parts are being made even today.
When you picture a Vespa in your mind, this is what you see, there are not too many design icons of the 60s that you could use every day.
Original from Italy, not bad replicas from India, Pakistan etc.
This model of Vespa was manufactured only in 1956, 1957 and 1958. And this model is becoming increasingly difficult to find, it is an investment that will increase significantly in price in the coming years...
The frame is very healthy and free of rust.
The engine, the tires are in good condition.
All documents are fine.
Saigon,
Thao,
+84 93 336 86 93
COMMENTS