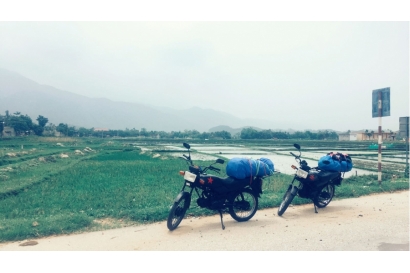 Tweet
48

2 bikes-4 wheels-No Limit!!
Item Type : Motobikes
Model Name : HONDA Win
Available From: 16/07/2017
Available To: 20/07/2017
Location: City, Ho Chi Minh City, Vietnam
Hey there, my name is Mia. My friend and I are travelling through vietnam with our motorbikes. It was a fantastic decision to travel vietnam by motorbike. It was a mind-blowing, breathtaking ride all the way down from Hanoi to Ho Chi Minh. Soon, our adventure will be finished and we will reach our final destination. So, are you looking to make the same experience just backwards from south to north???
Let us or the reception know about it!
We'll arrive at Ho Chi Minh on 17th of july and stay until 20th of july.
We are selling 2 hondas (manual 107cc) and are happy to teach you, if you aren't familiar with a manual- it's really easy to pick up though!
They are both in good condition. The Motors runs normally, brakes, clutches and lights work perfect. Both have the metalic holder for a big backpack and the elastic bands. Helmets are included. They both have mobile phone holders and a fresh oil change.
We have the blue cards, so you can easily sell your bike at the end of the trip.
Bike 1: New Battery
New back wheel
Charger for the phone (USB)
Change barrel 600km ago
(cylindric)
PRICE: 350$
Bike 2: New Carburator
Additional LED front light
PRICE: 250$
You are keen on starting your journey with a friend, we sell the bikes together for 500$.
COMMENTS