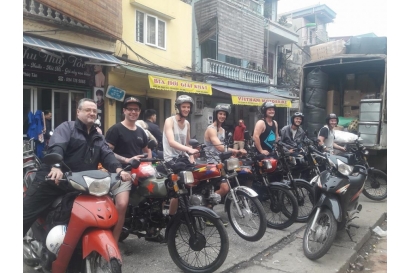 Tweet
2746

VIETNAM MOTORBIKE: BEST MOTORBIKE SHOP IN HANOI(31 PHUC TAN, HOAN KIEM, HA NOI
Item Type : Motobikes
Model Name :
Available From: 17/03/2018
Available To: 25/09/2018
Location: 31 PHUC TAN,HOAN KIEM ,HA NOI, Hanoi, Vietnam
Hello backpackers
welcome to VIETNAM MOTORBIKE is best motorbike shop for Backpackers in Ha noi
If you want to explore our lovely country by motorcycles, you can contact us to have good motorbike -- the friend that you can trust to accompany you during your trip.
We sell and for rent motorbike.
We have all kind : full automatic, semi-automatic, full manual.
Many Honda Win, Honda Wave, Yamaha Nouvo for sale.
20 x HONDA WIN 110CC FOR SALE 220$ TO 250$
15 x HONDA WAVE ,DREAM (SEMI AUTOMATIC) FOR SALE 190$ TO 250$
20 x YAMAHA NOUVO 125CC( FULL AUTOMATIC) SALE 230$ TO 300$
Our mechanic had checked and calibrated carefully to ensure that the motorbike is reliable and can go a long trip.
All our motorbikes was checked at my mechanic shop.
All are good condition, run smooth and strong.
All electric parts working in order: Head light, signal light, indicator,..
Both tires are still good, good brake, changed oil in regular.
We also change some new parts for the best condition of motorbikes,
not only beautiful outside but also the machine is good.
FREE:
1-Free good helmet
2-Free bike lock
3- Free Extended Luggage Rack
4- Free Paper registration (Blue card provided)
5 -Free Road Map of vietnam
6 -Free Bike shop 24 hour Helpline
7 -viet nam motorbike help guide
8- buy back my shop HCM city (180 $ to 220 $)
9 - Free driver lesson
10 - Free all checking at my repair shop
11 - FREE............ BEER :
Price From :200$
We also for rent motorbikes (Honda Win, Honda Wave and Yamaha Nouvo ) with the cheapest price.
Address :VIETNAM MOTORBIKE
HA NOI :No 31 PHUC TAN, Hoan Kiếm, Hanoi (just 1Km from Hoan Kiếm Lake, you can walking easy only 5 minute) (Old Quarter)
- HUE :viet nam motorbike 24 Nguyen Sinh Cung street,Hue
- HCM:SAIGON minsk, No 7 Bui Vien street, District 1,Ho Chi Minh City
Please, don't hesitate to Contact me if you're interested.
Send me a message to +84984130483(mr tony )
Please, Please call/ SMS before coming, We can pick up you for free,
just send us your address
COMMENTS