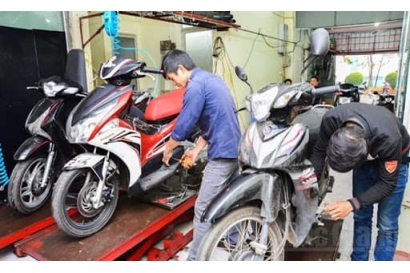 Tweet
6871

Perfect honda xr 150cc for rent cheap in hanoi ( Old quarter )
Item Type : Motobikes
Model Name : HONDA XR
Available From: 15/03/2023
Available To: 15/12/2023
Location: 413 hong ha, hoan kiem, hanoi, Hanoi, Vietnam
HONDA XR 150CC in the city and for long-distance traveling!
COME TO VIETNAM MOTORBIKES- XR 150CC is available for rent and sale!
XR 150cc is the most common and popular dual-sport motorbikes in VietNam. Within the 150cc category, it is the comfortable motorbike for one or two riders. The bike is lightweight and easy to handle, with a design that allows it to be usable in city traffic and performs well on the off-trail roads.
Why should you take XR 150cc?
It has a relativelystrong engine, more substantial frame, bigger wheels, and sturdier suspension
It is gentle to drive with a light clutch and smooth response.
The seat on the Honda XR is fairly wide and soft.
The rear shock is also soft and comfortable for the passenger.
Contact me with phone number : +84 984130483 (Call, message, zalo, whatsApp).
ADDRESS: 413 Hong ha , hoan kiem , hanoi
https://goo.gl/maps/P3SG99KpiQv8sNzu8
COMMENTS