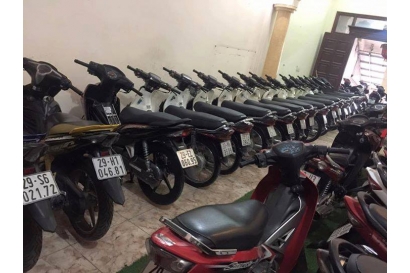 Tweet
171

Motorbike for rent
Item Type : Motobikes
Model Name :
Available From: 18/08/2017
Available To: 26/12/2017
Location: 289 ngoc thuy str, long bien, Hanoi, Vietnam
Hello EVERYBODY….!!!
WELCOM TO JAME HANOI MOTORBIKE is best motorbike company in Ha noi.
We sell and for rent motorbike with 200 bike full automatic, semi-automatic, full manual……
ALL MADE BY HONDA , YAMAHA , SUZUKI , KAWASAKI…..
Price from 170 usd to 500 usd
*********
All our motorbikes was checked at my mechanic .
All them good condition
All electric parts working in order: Head light, signal light, indicator,..
Both tires are still good, good brake, changed oil in regular.
We also change some new parts to make the best condition for motorbikes.
Come to my company you have
FREE:
1-Free good helmet
2-Free bike lock
3- Free Extended Luggage Rack
4- Free driving lesson
5 -Free Road Map of vietnam
6 -Free Bike shop 24 hour Helpline
7- buy back my shop HCM city about 50% to 70%
8- Free sevice in Hue and Ho Chi Minh city

Price From :
We also for rent motorbikes (Honda Win, Honda Wave and Yamaha Nouvo ... dirt bike....) with good price.
Address ;289 ngoc thuy st , long bien
Only 3km from old quater

Please, don't hesitate to Contact me if you're interested.
Send me a message to +84915010817 Mr Jame (call, sms, whatsapp, viber, zalo, wechat, Line...)
Please call/ SMS before coming.
We can pick up you for free, just send us your address
COMMENTS