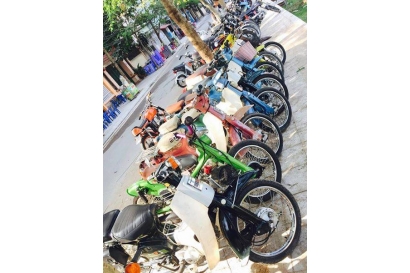 Tweet
206

HONDA SUPER CUB
Item Type : Motobikes
Model Name : HONDA Cub
Available From: 18/04/2019
Available To: 30/07/2019
Location: 55 Trịnh công sơn- Tây hồ- Hà nội, Hanoi, Vietnam
The Honda Super Cub or Honda Cub is a Honda underbone motorcycle with a four stroke single cylinder engine ranging in displacement from 49 to 124 cc (3.0 to 7.6 cu in).
In continuous manufacture since 1958 with production surpassing 60 million in 2008, 87 million in 2014, and 100 million in 2017, the Super Cub is the most produced motor vehicle in history. Variants include the C100, C50, C70, C90, C100EX and C70 Passport, as well as the Honda Trail series.
The Super Cub's US advertising campaign, You meet the nicest people on a Honda, had a lasting impact on Honda's image and on American attitudes to motorcycling, and is often used as a marketing case study
Also called
Cub, C100, C102, C65, CM90, CM91, C110, C50, C70, C90, Passport, EX5, Dream 100, EX5 Dream, C100EX, Super Cub 50, Super Cub 110
Production
1958-present
Assembly
15 countries worldwide
Class
Underbone
Engine
Horizontal 49–124 cc (3.0–7.6 cu in) 4-stroke air-cooled single
Transmission
3- or 4-speed, semi-automatic with wet multi-plate centrifugal clutch
Frame type
Step through pressed steelmonocoque underbone
Suspension
Front: Leading link (early), telescopic fork (late)
Rear: Swingarm
Brakes
Front: drum
Rear: drum
Weight
55–90 kg (121–198 lb)(dry)
Related
Honda Wave (Southeast Asia)
Honda Biz
Please, don't hesitate to Contact me if you're interested.
Please, Please call/ SMS before coming
For further enquiries, send us a message or drop into our shop for a chat with our helpful friendly staff
COMMENTS