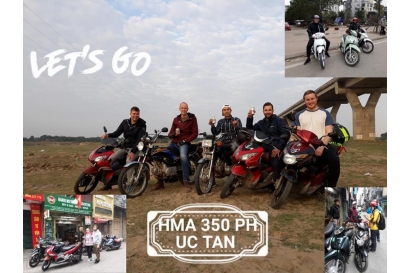 Tweet
5203

Hanoi Specializes In Selling High Quality Motorcycles What App : +84934596290
Item Type : Motobikes
Model Name : HONDA Win
Available From: 01/04/2018
Available To: 30/06/2018
Location: 350 Phúc Tân, Hanoi, Vietnam

HANOI MOTORBIKES FOR SALE & RENTAL 350 PHUC TAN STREETS,
Full manual honda win 110cc for rent : $42/week, $80 2weeks, $140/month,
Semi new honda wave 110cc for rent $42/week, $80 2weeks, $140/month,
Full automatic yamaha nouvo for rent $42/week, $80 2weeks, $140/month,


Full manual honda win 110cc for sale $250

Semi new honda wave 110cc $220

Full automatic yamaha nouvo $250 - $290
ALL IN ONE MOTORBIKES PACKAGES YOU DO NOT HAVE TO WASTE TIME LOOKING AROUND
Hanoi Motorbikes Adventure is a professional motorcycle service in Hanoi, offering the best quality motorcycle
hire and rental service at competitive prices,
Motorbike service is in Hanoi
In addition to the hanoi motorbike rental service, Hanoi Motorbikes Adventure also provides a route to North
West Vietnam, Hanoi to HCM City. listing of holiday accommodation to help
customers easily get to the point of visit,
Our motorcycle service meets the great demand of customers, commits to purchase and rent the best motorbike
with reasonable cost.
Hanoi Motorbikes Adventure's motorcycle service in Hanoi is the best rated motorcycle process with the
following steps:
1. Analyze your product of choice
2. Study and analyze the most convenient itinerary for your team
3. Contact support 24/24 +84986552827 or inbox directly facebook.com/hanoimotorbikesforsale
4. We will buy back your motorbikes in HCM hafp price
5. warranty>>>If you have to spend money for repair ( Engine we will suport that money back)
6. Suport conect sale back to other tourist hostel in Vietnam , Lao Cambodia
Professional motorbike services at Hanoi 2013
Price Include : 1- good helmet
2- bike lock
3- Extended Luggage Rack
4- Paper registration (Blue card provided)
5 - Road Map of vietnam
6 - Bike shop 24 hour Helpline
7 -full document road trip
8- my shop will buy back in Hoi An & HCM city (Hafp Price )
9 - Free driver lesson & Off road tour
10 - Free Internet Sim Card
Priority for customers carrying luggage using the taxi, urber, grab will be a discount of 10% on any type of motorbike.
COMMENTS