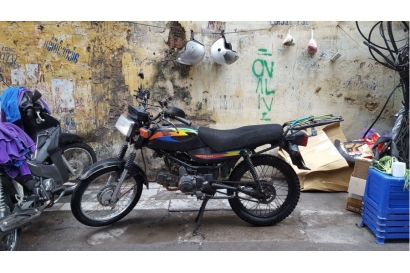 Tweet
156

Espero Detech 'Honda Win'
Item Type : Motobikes
Model Name :
Available From: 26/01/2018
Available To: 26/02/2018
Location: Hanoi, Vietnam
Bought this motorbike from a friend of mine in Hoi An and drove me and my girlfriend back to Hanoi!
This powerfull motorbike had no problems driving me, my girlfriend and two backpacks up the mountain. Also, we did not have any mechanical problems with this motorbike at all. You will also not have any serious trouble if you take good care of the motorbike. I.e. service it every 400km (oil change, chain tightening) like we did.
The price for the motorbike is 279 USD and will get you:
-the perfect motorbike for touring vietnam with matching blue card
-two over ear helmets (1 big/1small)
-decent motorbike lock
-2 bungee cords
COMMENTS