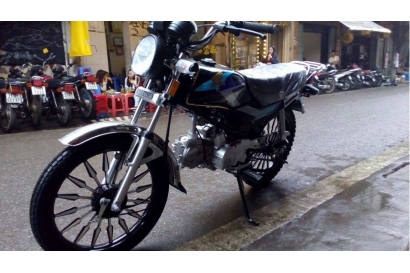 Tweet
3510

Brand New Detech Wins - 110cc - 125cc - 130cc
Item Type : Motobikes
Model Name :
Available From: 13/04/2017
Available To: 02/06/2018
Location: Hanoi - 29 Dao Duy Tu - HCMC 368 Vo Van Kiet, Quan 1, Hanoi, Vietnam
STYLE MOTORBIKES - No.1 Tripadvisor Motorbike shop in Hanoi
We have some brand new Detech Wins for sale. As the only shop in Hanoi that is able to buy directly from the Detech company we are able to offer these bikes at a price that no other bike shop in Hanoi is able to and as Sufat are now no longer making new Wins the Detech is now the best Win available.
We have 110cc 125cc and 130cc models available, the 125 and 130 both have stronger rear suspension making them more suitable for 2 people to travel on 1 bike.
As with all of our bikes these come with a luggage rack, bungee cords, USB charger, phone holder, map and lock.
We will also provide you with a route to ensure that you see everything that Vietnam has to offer and provide 24 hour support if you do have any problems on your journey. We also offer free driving lessons and a free service in Hanoi if you travel around the north of Vietnam before heading south as well as a free service in Hue.
You can rent from Hanoi to HCM or the other way round.
You can rent from...
$180 for a month
$195 for 6 weeks
Almost all of the breakdown costs are covered by us when you are renting.
For more information please contact us via telephone, email or through our Facebook page. www.facebook.com/stylemotorbikeshanoi
https://www.tripadvisor.co.uk/Attraction_Review-g293924-d10077825-Reviews-Style_Motorbikes-Hanoi.html
COMMENTS