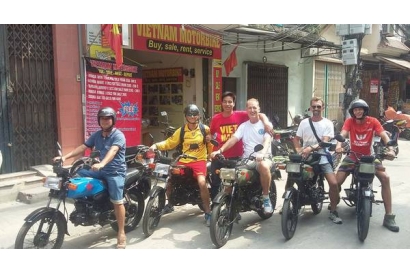 Tweet
1179

BEST MOTORBIKE SHOP IN HA NOI(31 PHUC TAN ,HOAN KIEM ,HA NOI)
Item Type : Motobikes
Model Name : AJS Model 16MS
Available From: 19/07/2017
Available To: 30/11/2017
Location: 31 PHUC TAN ,HOAN KIEM ,HA NOI, Hanoi, Vietnam
If you want to explore our lovely country by motorcycles, you can contact us to have good motorbike -- the friend that you can trust to accompany you during your trip.
We sell and for rent motorbike.

We have all kind : full automatic, semi-automatic, full manual.

Many Honda Win, Honda Wave, Yamaha Nouvo for sale.
NEW DETECH 125 CC SALE 320$
HONDA WIN 110CC SALE 220$ TO 260$
HONDA WAVE ,DREAM 110CC,(SEMI AUTOMATIC) SALE 220$ TO 250$
YAMAHA NOUVO 125CC( FULL AUTOMATIC) SALE 230$ TO 270$

Our mechanic had checked and calibrated carefully to ensure that the motorbike is reliable and can go a long trip.

We also change some new parts for the best condition of motorbikes,

not only beautiful outside but also the machine is good.

FREE:
1-Free good helmet
2-Free bike lock
3- Free Extended Luggage Rack
4- Free Paper registration (Blue card provided)
5 -Free Road Map of vietnam
6 -Free Bike shop 24 hour Helpline
7 -Free vietnam motorbike help guide
8-Free buy back my shop HCM city (170 $ to 200$)
9- FREE BEER :
Price:200 $
We also for rent motorbikes (Honda Win, Honda Wave and Yamaha Nouvo ) with the cheapest price.
Address :: vietnam motorbike
HA NOI :No 31 PHUC TAN , Hoan kiem, Hanoi (just 1Km from Hoan Kiếm Lake, you can walking easy only 5 minute.) (Old Quarter)
Please, don't hesitate to Contact me if you're interested.please ring me before you come my shop, i can pick up you free just send me address your hostel.
Send me a message to 0984130483(mr tony ).ON WHATSAPP
Thank for looking and feel free come to test ride.
COMMENTS