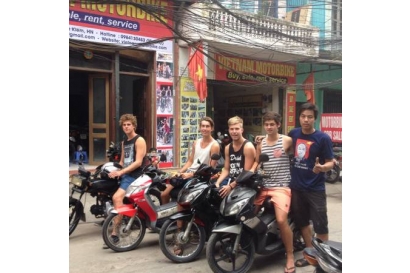 Tweet
3050

100 X YAMAHA NOUVO AUTOMATIC 125 CC FOR SALE 230$(31 PHUC TAN ,HOAN KIEM ,HA NOI )
Item Type : Motobikes
Model Name :
Available From: 01/05/2018
Available To: 28/09/2018
Location: 31 PHUC TAN,HOAN KIEM ,HA NOI, Hanoi, Vietnam
Hello backpackers
we have some yamaha Nouvo for sale.
Automatic bike, very easy to ride.
Good condition: all electrics fully functional.
Recently serviced - oil change and brand new clutch fitted.
It is the perfect bikes to take you from Ha Noi to Ho Chi Minh City or anywhere you would want to go in the country and that appropriate with these people Work in the HÃ? Nội. Bikes will be shown at any location of your preference in or near the Old Quarter. Any motorbike you buy will come with a 1 month warranty to replace/service any parts that do not function as expected.
FREE:
1-Free good helmet
2-Free bike lock
3- Free Extended Luggage Rack
4- Free Paper registration (Blue card provided)
5 -Free Road Map of vietnam
6 -Free Bike shop 24 hour Helpline
7 -viet nam motorbike help guide
8- buy back my shop HCM city (180 $ to 220 $)
9 - Free driver lesson
10 - Free all checking at my repair shop
11 - FREE............ BEER :
Price From : 200$
Prices are negotiable especially if you wish to buy more than one bike.
ADDRESS: No 31 PHUC TAN, Hoàn Kiếm, Hanoi (Just 1 KM From Hoan Kiem Lake,you can walking easy only 5 minute ).
Contact: 0984130483(mr tony) ( email ,viber, whatsApp,messenger...)
Pls ring us before you coming!!WE CAN PICK UP YOU FOR FREE IF YOU SEND ME ADDRESS AT YOUR HOSTEL.
Or you can go by taxi come my shop if would you like and i pay taxi for you.
Thanks for looking, and feel free to come test ride.


COMMENTS